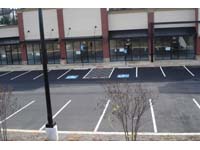 PL Striping Inc. can provide a variety of services for your parking lot. Having a professionally installed or repaired parking lot can make a huge difference in the convenience and accessibility of your business. At PL Striping Inc., we are experts in parking lot maintenance.
We offer:
Parking lot Striping
Playground Striping
A.D.A. Compliant Striping
Sign Installation
Asphalt repair & Sealcoating
Curb Painting
Parking Bumpers
Bollards
Church Discounts
Please give us a call today and let us know how we can best be of service. We look forward to working with you.